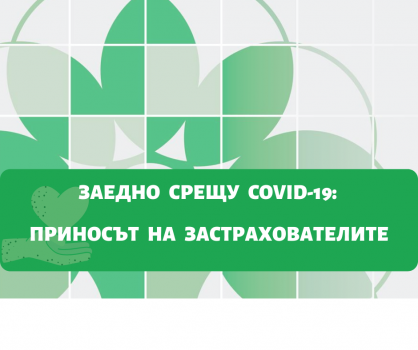 AGAINST COVID-19: THE CONTRIBUTION OF BULGARIAN INSURERS
The COVID-19 pandemic posed a challenge for which there are no ready-made solutions. This situation was and continues to be a test - for the adaptability and stability of businesses, but also for empathy and care for society. A test that the insurance industry passed successfully.
During this difficult period, insurance companies turned to society with numerous gestures of goodwill and donations to help the most affected and to support the health sector and other sectors that were at the forefront of the fight against the epidemic. The companies provided free COVID-19 risk insurance for medics and health workers from all over the country and for the Ministry of Interior. They made donations of medical and hospital equipment for many hospitals in the country, provided protective equipment. They helped conduct distance learning for children in need with donations for computers and communication equipment.
As a sector of systemic importance for society and the economy, with the introduction of the state of emergency, insurers had to react as quickly as possible in order to ensure business continuity in all lines of business. Within hours and days, the insurance companies managed to transform their business processes so that they could continue their activities without interruption and serve their clients in compliance with the highest health protection measures. Insurers have entered into intensive communication with their customers and offered a number of innovative digital solutions to help them.
Insurers for their customers
The declining economic activity caused by the COVID-19 crisis has been and continues to be a test for both businesses and people. In this situation, the insurance sector clearly demonstrates its commitment and responsibility to customers and society. Without any regulatory requirements, the companies provided a number of benefits and services to their customers in good faith. They are different for different companies, depending on their internal policy, customer needs and the specifics of insurance products. Among them are:
Extension of deadlines for filing damages
Opportunities for online / digital damages
Opportunities for remote inspection of damages in case of an insurance event for car and property insurance
Simplified procedures for filing claims by customers
Extension of the term of payment of the premium by granting a grace period for the due payments under policies
Preservation of insurance coverage for policies that have not been paid due to the state of emergency.
Possibilities for remote conclusion of new insurance policies and simplified procedure for renewal of expiring policies
Opportunities for digital payment of premium installments
Online and video consultations
Insurers responded quickly and adequately to society's protection needs by developing and offering COVID-19 insurance products and risk coverage. The market offers insurance for corporate (employers) and individual clients, which cover diagnostics of COVID-19, treatment and hospital stay, loss of life. There is insurance in support of BG tourism to guarantee the vouchers issued by tour operators for canceled trips. Bulgarian tourists traveling abroad can purchase insurance covering the COVID-19 risk.
The companies responded responsibly and empathetically to the needs of the society and supported the first line professionals and the most needy with donations. Among the initiatives are:
Free insurance protection for medical workers and employees of the Ministry of Interior throughout the country
- Generali AD and GP Reinsurance EAD provided free insurance protection to 1600 medics and employees of healthcare facilities on the first line against the risk of infection with COVID 19.
- DZI insured free of charge the first-line medical personnel in Sofia against COVID-19 in a joint initiative with the Sofia Medical College of the Bulgarian Medical Union.
- UNIQA Bulgaria concluded health insurance and accident insurance with members of the Bulgarian Association of Healthcare Professionals, upgrading the product with COVID-19 coverage, which includes taking over the treatment of COVID-19 for all 30,000 healthcare professionals.
- Life Insurance Institute AD made: a donation of "Risk Life Insurance" to the employees of the Center for Emergency Medical Care - Sofia; exclusive offer to the members of the Bulgarian Dental Association for "Risk Life Insurance"
- Lev Ins AD and Life Insurance Institute AD provided free special coverage for events that occurred as a result of Covid-19 infection to the Group Life Risk Insurance for all employees of the Ministry of Interior.
Donations of medical equipment, protective and protective equipment or financial donations
- Generali AD and GP Reinsurance EAD made donations in the form of medical equipment and financial means to 17 hospitals in the country.
- Lev Ins AD and Life Insurance Institute AD provided protective equipment - helmets and masks - free of charge for the needs of the Ministry of Interior.
- Bull Ins AD made donations of protective equipment for the Ministry of Labor and Social Policy, which were provided to the social services in the country.
- EuroIns AD made a donation of hospital equipment and funds for family-type accommodation in the municipality of Belogradchik. The Eurohold companies donated financial means to St. Sofia Hospital.
- CCB Life is a donor of SOS children's villages and a home for children deprived of parental care in Stara Zagora. A donation of protective equipment and disinfectants was provided.
Donations in support of education for: supporting the educational process in the conditions of distance learning for the most needy by providing computers, communication equipment and educational materials; financial support for future students
- Allianz Bulgaria donated laptops for the children included in the programs of SOS Children's Villages.
- MetLife Bulgaria and the MetLife Foundation donated funds for the purchase of computers and communication equipment for schools and students in need.
- The educational historical films of Armeec Insurance Company and the Bulgarian History Association were provided free of charge for the distance learning of hundreds of students. They were used in the video lessons of Prosveta publishing house.
- Bulstrad Vienna Insurance Group JSC supported the initiative "Education for the World Tomorrow" of SA "D. A. Tsenov with a donation equal to all annual semester fees of first-year students in regular form, in the specialty "Insurance and Social Affairs".